1st NHR-Conference | 18.09.23 - 20.09.23 | Berlin
The annual NHR-Conference is aiming at promoting scientific exchange among the HPC-user community. Each year the focus will be on different scientific topics.

Topics this year: Life Sciences, Atomistic Simulation and Agent Based Simulation.
18.-19.09.23 Scientific part: Invited lectures, panel discussions, workshops
20.09.23 NHR internal workshops

In addition to invited lectures, users of the NHR Centers will have the opportunity to present their projects in a poster session, and to exchange ideas with the consulting and operational teams of the NHR-Centers.
Lange Nacht der Wissenschaften
This year, the NHR Alliance was represented at the LNDW at the Zuse Institute Berlin. The event was very well attended and the interest in projects in the field of high performance computing was overwhelming. Until late at night, visitors could take part in guided tours to the supercomputer and experience the diverse projects at interactive stations.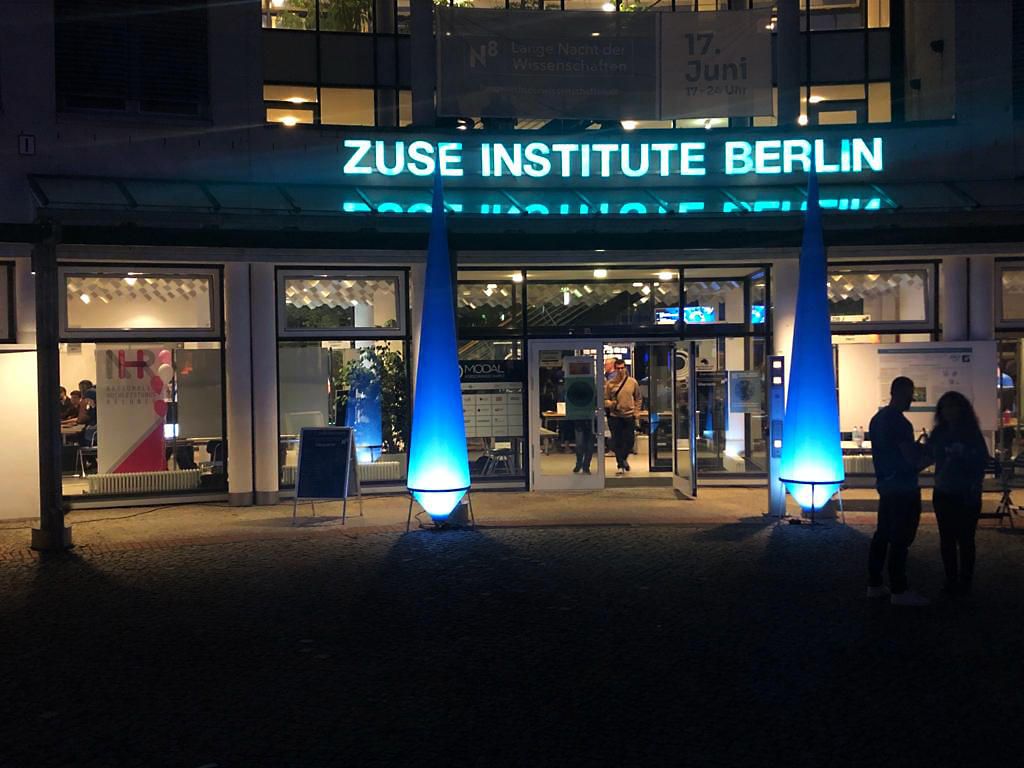 Summer School 2023
An interesting and intensive program week has come to an end. Our fellows traveled nationwide from all NHR centers and were welcomed in Paderborn by Christian Plessl, the director of the Paderborn Center for Parallel Computing. The program week focused on different HPC workshops. In addition, all participants had the opportunity to present their projects to each other and to get to know each other and connect during various additional activities.
ISC High Performance 2023 | 21.05.2023 - 25.05.2023
The ISC High Performance was a complete success! Our booth was always well visited and many inspiring discussions took place.
Over 60 ISC participants from NHR have contributed to the great success of our NHR booth.
Many thanks to all and we look forward to next year!

The call for applications is now open!
Every year, our NHR Graduate School offers nine Master's graduates with an above-average degree the opportunity to be supported with the NHR scholarship. More information on the application process can be found here.
Joint Call of NHR-Alliance for Large-Scale Proposals 
>> Next Deadline: 1st April 2023 <<
The NHR-centers jointly call for large-project proposals and encourage scientists affiliated to a German university to submit their project ideas for access to HPC resources operated by one of our NHR centers.  
>> Apply at one of our NHR-centers: Computing Time  <<
NHR@FAU student team wins SC22 student cluster competition in Dallas, TX
We are pleased that the team of six undergraduate students from Computer Science and Computational Engineering took first place in the HPCG category with a performance of 1.97 Tflop/s. The students were asked to assemble, install and administer an HPC system and run a selection of high-performance applications as fast as possible under a strict performance constraint. They chose a single node from our "Alex" cluster (an AMD-based host with eight NVIDIA A100 GPUs). The competition simulates common operations and challenges in an HPC data center, with students taking on the role of both data center operator and user.